326CID E/MP Race Engine
The H-O Racing Specialties "326" Engine was based upon a 1956 Pontiac 316CID engine out of a 1956 GMC armored truck from a local wrecking yard . It was suggested by fellow local Pontiac drag racer Bruce Brayton and executed by Craig Hendrickson and Kern Osterstock in 1972 to drag race in NHRA's E/MP (11lb/CID Modified Production) class.

Some technical highlights about the H-O Racing "326" pictured above:
Headers were "Headers by Ed" for 64-67 A-body with round port exhaust.
Block was a 1956 316CID bored 0.060″ over (4.000″).
Crankshaft was a stock 1956 316CID (3.250″ stroke) forged unit ground .010/.010.
Heads were 1970 RA IV (#722) ported by Craig Hendrickson.
Valve train was Isky "Super LeGuerra" roller with rev kit and triple "Vasco-jet" springs.
Rocker arms were Pontiac RAIV 1.65:1 with grooved rocker balls.
Pushrods were custom length D&D 3/8″ diameter chromoly.
Guideplates were custom 3/8″ clearance fabricated by Kern.
Stud girdle was custom fabricated by Kern Osterstock.
Rods were stock length (6.625″) 1963 421SD rods. Later Mickey Thompson aluminum rods were fitted.
Pistons were custom Arias domed forgings with tapered pins.
Intake manifold was a custom built aluminum tunnel ram designed by Craig and fabricated by Kern.
Engine mounts and starter mount were fabricated by Kern to fit a 1965 GTO.
RPM redline was 9,300RPM and horsepower was about 700HP @ 8,300RPM.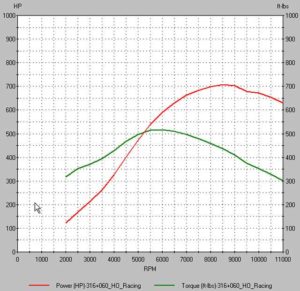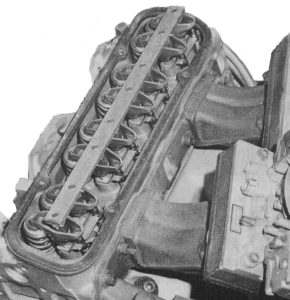 326CID E/MP Race Engine
Installed in H-O Racing E/MP 1965 Tempest drag car

At Lions Drag Strip with Craig driving.

Before paint with Craig driving.

"Pure 326 Pontiac" after paint.

In 1974, the 326CID E/MP race engine was sold to Selden Ruwwe of Bourbon, MO. He raced it for years in his clone 1963 Tempest A/FX drag car.
This concludes the 326CID E/MP Race Engine topic.
---